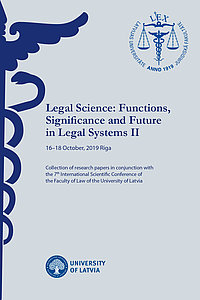 Legal Science: Functions, Significance and Future in Legal Systems II (PDF)
The 7th International Scientific Conference of the Faculty of Law of the University of Latvia
16–18 October 2019, Riga
Collection of Research Papers
Tiesību zinātnes uzdevumi, nozīme un nākotne tiesību sistēmās II
Latvijas Universitātes Juridiskās fakultātes 7. starptautiskā zinātniskā konference
2019. gada 16.–18. oktobrī Rīgā
Konferences rakstu krājums
Rīga: LU Akadēmiskais apgāds, 2019, 425 lpp.
ISBN 978-9934-18-530-4
doi.org/10.22364/iscflul.7.2
Table of Contents
Preface
SECTION 1. CONSTITUTIONALITY AND SUSTAINABLE DEVELOPMENT OF THE STATE
Kamila Doktor-Bindas. Protection of Principle of the Rule of Law in Relations Between the European Union and the Republic of Poland
Monika Gizynska. Methods of Increasing Voter Turnout in the Context of Its Decline and Low Civil Culture
Massimiliano Cicoria. Human Rights and New Racial Measures in Italy
Edvins Danovskis. Concept of Freedom of Evaluation in Latvian Administrative Law
Annija Karklina. Concept of Fully Elaborated Draft Law in the Context of Implementing Voter's Legislative Initiatives
Dorota Lis-Staranowicz. The Relation Between Political Rights and Social Rights: Some Remarks Concerning the Polish Constitutional and Political Practice
Sanita Osipova. Establishing the University of Latvia
Kazunobu Oyama. Idealism is Inclined to Reduce Compliance with Law
Anita Rodina. Sustainability as the State Principle, Diversity of its Application in Practice
SECTION 2. PERSONAL HUMAN LIBERTY AND AN INDEPENDENT STATE GOVERNED BY THE RULE OF LAW, FOUNDED ON DEMOCRATIC VALUES. 200 YEARS SINCE THE ABOLITION OF SERFDOM IN THE BALTICS
Thomas Hoffmann, Hesi Siimets-Gross. The Institute of Serfdom in Hilchen's Draft Land Law of 1599 – a Regional Comparison
Janis Lazdins. The Origins of a Civil Society Based on Democratically Legitimate Values in Baltics after Abolition of Serfdom
Marju Luts-Sootak, Hesi Siimets-Gross. Baltic Peasants after Emancipation – Free and Equal People or a New Social Estate in the Estate-Based Society?
Guntis Zemitis. Abolition of Serfdom in the Baltics – a Demand Dictated by the Modern World
SECTION 3. CHALLENGES TO LEGAL SCIENCE IN THE INTERACTION BETWEEN THE INTERNATIONAL AND NATIONAL LEGAL SYSTEMS: INTERNATIONAL PRIVATE LAW AND EU LAW
Inga Kacevska. Ne Bis in Idem Principle in Arbitration – Latvian Perspective
Grega Strban. The Right to Social Security: from State to EU Responsibility?
Agnese Bankava, Arnis Buka, Signe Mezinska, Juris Barzdins. The Effect of GDPR on Secondary Use of Data Concerning Health in Research: Latvian Case in the European Context
Vanya Panteleeva. Transposition of Directive (EU) 2016/680 of the European Parliament and of the Council of 27 April 2016 in Personal Data Protection Act in Republic of Bulgaria
SECTION 4. CHALLENGES TO LEGAL SCIENCE IN THE INTERACTION BETWEEN THE INTERNATIONAL AND NATIONAL LEGAL SYSTEMS: INTERNATIONAL PUBLIC AND HUMAN RIGHTS
Lucia Mokra. The Slovak Republic's Positive Obligation Regarding Human Rights and Against Racial Discrimination
Arturs Kucs. Importance of Legislative Process in Evaluation of Human Rights Limitations in Case Law of the European Court of Human Rights and the Constitutional Court of Latvia
SECTION 5. CHALLENGES OF THE 21st CENTURY TO THE DEVELOPMENT OF THE SCIENCES OF CRIMINAL LAW
Baris Bahceci. Questioning the Penal Character of Disciplinary Sanctions in the European Court of Human Rights' Case Law
Flaviu Ciopec. Simplified, Yet Not Simplistic: Decision-making in Criminal Courts in Romania
Arija Meikalisa, Kristine Strada-Rozenberga. Detention on Remand: An Updated View of the Current Problems of Application and Impact on the Outcome of Criminal Proceedings
Ioana-Celina Pasca. Criminal Protection of Privacy in Legislation of Romania
Laura Stanila. Living in the Future: New Actors in the Field of Criminal Law – Artificial Intelligence
SECTION 6. LEGISPRUDENCE: OPPORTUNITIES PROVIDED BY THE THEORY OF LAW FOR IMPROVING THE QUALITY OF LEGISLATION
Ana Knezevic Bojovic, Vesna Coric. Legal Science and Regulatory Reform in Serbia: One Step Forward, Two Steps Back
Daiga Rezevska. Deriving and Concretization of the Principle of Good Legislation
SECTION 7. TRENDS IN THE DEVELOPMENT OF PRIVATE LAW, CHALLENGES AND FURTHER IMPROVEMENTS
Carlo Amatucci. Corporate Social Responsibility and the Quest for Incorporating Stakeholders' Interests in Directors' Duties
Ramunas Birstonas, Vadim Mantrov, Gaabriel Tavits, Aleksei Kelli. Implementation of Trade Secrets Directive in Baltic States: A Step towards Partial Harmonisation
Gaetano Di Martino. Protection of Incapacitated Persons: Evolution of Law and Fundamental Rights
Janis Karklins. Third-Party's Fault as an Exclusion from Strict Liability
Aleksei Kelli, Arvi Tavast, Krister Linden, Ramunas Birstonas, Penny Labropoulou, Kadri Vider, Irene Kull, Gaabriel Tavits, Age Varv, Vadim Mantrov. Impact of Legal Status of Data on Development of Data-Intensive Products: Example of Language Technologies
Janis Rozenfelds. Property Rights Applicable to Immovable Property
Gaabriel Tavits. Collective Labour Relations and Digital Economy – Do They Co-exist?